There are few foods as versatile as chicken. Although it can be served with almost any meal, that doesn't mean that it's always delicious. This is why it's important to marinate chicken before cooking it, in order to make sure that each bite of your meal is flavorful, juicy, and soft.
Like any cooking technique, there are ways to marinate that work better than others, and according to Patrick LeBeau, an executive chef at Bambara in Salt Lake City, and a graduate of the Culinary Institute of America, there's one method of marinating chicken that stands above the rest.
Read on to learn about this chef-approved way to marinate, and for more cooking tips check out The 9 Kitchen Tools Every Beginner Cook Needs.
Making the marinade
Before the chicken can be marinated, a marinade has to be put together. As far as what goes into the marinade, LeBeau recommends combining grapeseed oil, kosher salt, and lemon juice, as well as herbs, including parsley, dill, and chive.
"The neutral flavor of the oil allows the flavor of the herbs to come through as well as providing a higher smoke point so the oil will not burn before the chicken cooks," LeBeau says. "The lemon helps to tenderize the chicken as well and impart flavor."
He recommends first combining the oil, salt, and lemon juice in a bowl before chopping up the herbs and combining them in the bowl with the other ingredients.
"Chop the herbs and mix everything together in a bowl," LeBeau says. If that results in a marinade that's a bit thick or chunky for your tastes, LeBeau recommends an easy solution to smoothing out the marinade. "If you want you can also place all ingredients in a blender to make it smooth," LeBeau says.
Marinating the chicken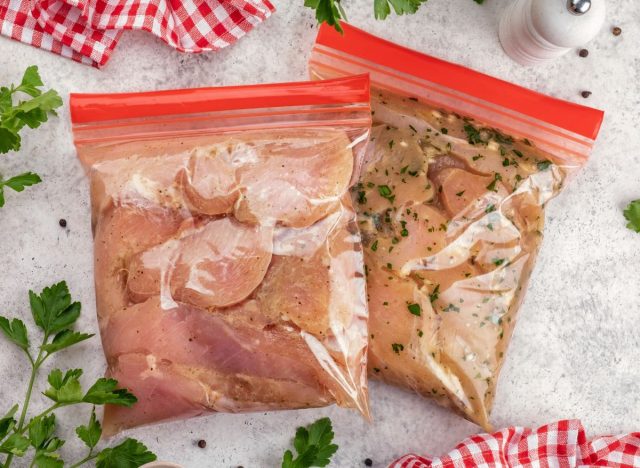 The best way to combine the chicken and the marinade is by placing them both in a plastic bag once the ingredients of the marinade are mixed together, according to LeBeau.6254a4d1642c605c54bf1cab17d50f1e
"Place the chicken in a large Ziploc bag and then pour in your marinade," LeBeau says. "Once everything is in the bag, seal the bag and squeeze [the contents] with your hands to massage the oil into the chicken and make sure it is evenly coated."
Making sure that the entire piece of chicken is evenly coated with the marinade will ensure that each piece is packed with flavor, according to LeBeau. Before you put on the marinade, it's also important to make sure that the chicken is room temperature so it will be able to absorb the ingredients in the marinade and become flavorful.
If you're ready for a delicious dinner, grab some chicken, a Ziploc bag, and whatever you need for your marinade. Then throw this delicious chicken on the grill or in the oven and enjoy the tender, juicy flavors.