Texas Roadhouse is a chain that has found fans across the country thanks to their Texas-sized portions, wide selection of steaks, and the downhome charm of being able to snack on some peanuts before throwing the shells straight on the floor.
While the restaurant always promises to offer up a good time, many of the chain's entrees, appetizers, and even salads come loaded with fat, carbs, and sodium.
"The foods that are the least healthy are either the oversized portions or the fried options," says Dr. Lisa Young, PhD, RDN, author of Finally Full, Finally Slim. "For example, the full slab of ribs has considerably more calories than the half slab."
Seven items have the potential to easily pack on the pounds, but that shouldn't deter you from dining here, especially if you want one of their signature dishes. "The good news is that the menu offers smaller portions as well as options for healthier items," says Dr. Young.
Keep reading to see the worst dishes you should never order at Texas Roadhouse, and next, don't miss 5 Reasons Texas Roadhouse "Legendary" Steaks Are So Cheap.
2,250calories, 135 g fat (26 g saturated fat), 5,000 mg sodium, 236 g carbs (19 g fiber, 36 g sugar), 25 g protein
If you want to indulge in a massive fat bomb before your actual meal makes it to the table, Texas Roadhouse's Cactus Blossom has your name on it. "The deep-fried cactus blossom is among the least healthy items," Dr. Young says. "I suggest sharing it with at least 6 people."
The starter comes loaded with a ridiculous amount of salt and carbs, not to mention a calorie count that easily exceeds your daily recommended amount.
PLUS: Make better eating choices every day by signing up for our newsletter!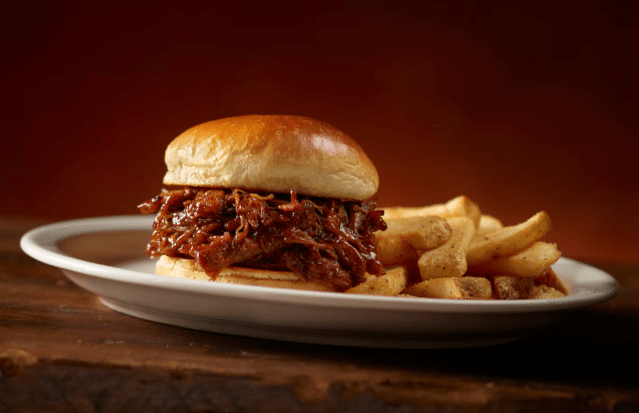 1,610 calories, 91 g fat (24 g saturated fat), 3,500 mg sodium, 126 g carbs, (15 g fiber, 26 g sugar), 78 g protein
If you're looking for a sodium bomb, this Pulled Pork Sandwich is all yours, but your body won't be happy with you in the long run. In the FDA's Dietary Guidelines for Americans, adults are recommended to limit their intake of sodium to less than 2,300 mg per day. The ramifications of consistently consuming high amounts of sodium can lead to high blood pressure, which can put you at big risk for both heart disease and stroke, according to the CDC. Barbeque can be enjoyable, but the sugary sauce, in addition to any other unhealthy, calorie-filled side dish options you may pick to go alongside it.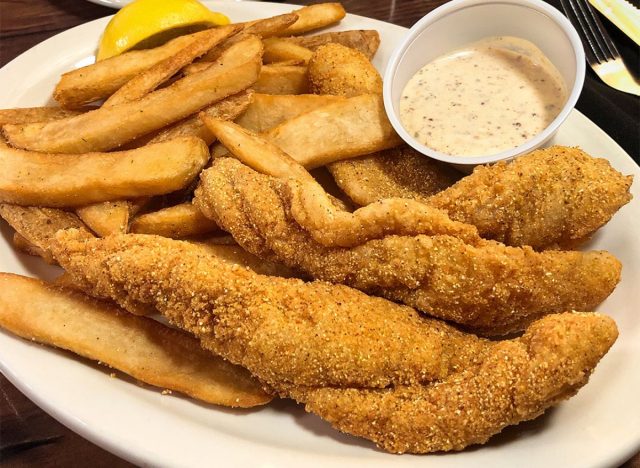 1,700 calories, 93 g fat (15 g saturated fat), 1,490 mg sodium, 45 g carbs, (1 g fiber, 1 g sugar), 40 g protein
On paper, fish should present a healthier alternative to many types of red meat, but when the chain's catfish comes deep-fried and covered in salt, you end up with one of the least healthy items on the Texas Roadhouse menu. Factor in a whopping 93 grams of fat, and Dr. Young recommends avoiding this large serving of fried fish.6254a4d1642c605c54bf1cab17d50f1e
If you're craving some seafood, the chain offers a selection of other healthier fish options (including a three-piece version of the same catfish meal). Even better, you can whip up a Southern-Style Cornmeal Catfish With Tomato Gravy at home.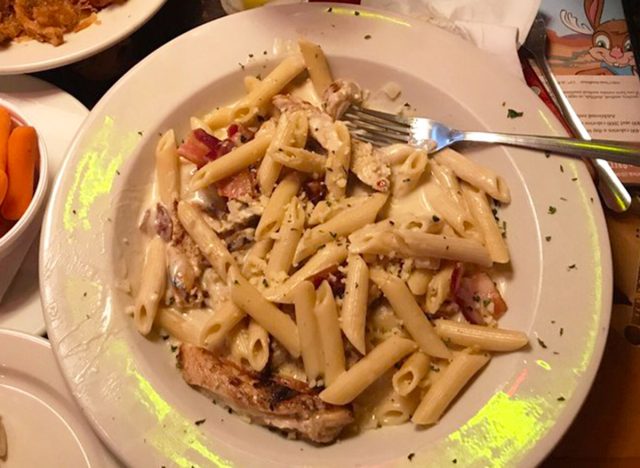 1,200 calories, 65 g fat (33 g saturated fat), 2,280 mg sodium, 85 g carbs, 6 g fiber, 6 g sugar), 68 g protein
Theoretically, a chicken pasta shouldn't derail your diet, but Texas Roadhouse's take on the meal promises to do just that. The Sierra Chicken Pasta dishes out over half of your recommended calories for the day—in addition to about a day's worth of salt and fat in each plate.
If you need a lighter option and want to avoid red meat, try the chain's Grilled BBQ Chicken for a healthier white meat option.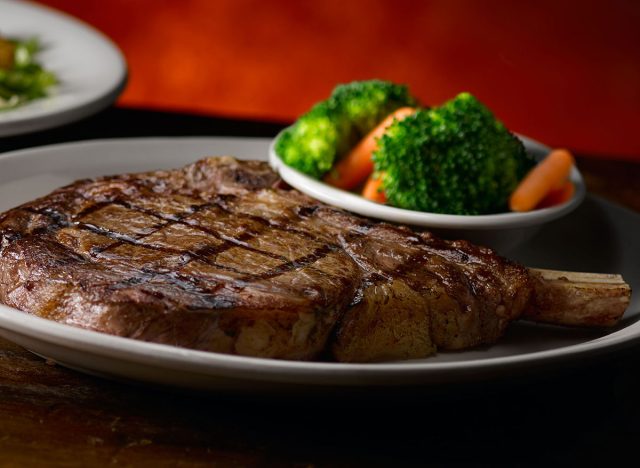 1,480 calories, 101 g fat (44 g saturated fat), 1,720 mg sodium, 20 g carbs, 4 g fiber, 4 g sugar), 143 g protein
Texas Roadhouse prides itself on its range of red meat. Out of all of the options, though, the Bone-In Ribeye not only ranks as the least healthy cut of beef, but it also clocks in as one of the most calorie-packed options on the whole menu.
Each steak comes with over a day's worth of fat and about 75% of a day's worth of calories and salt. The ribeye is a very fatty piece of meat to begin with, and even ranks as the unhealthiest steak to order, according to dietitians.
1,450 calories, 102 g fat (41 g saturated fat), 2,260 mg sodium, 15 g carbs, 4 g fiber, 10 g sugar), 116 g protein
When you really want to go all-out at Texas Roadhouse, few entree items can compare to the full rack of ribs. While the massive meal can easily shock and awe any hungry customer who orders it, don't expect to dodge the calories that come along with it.
Anyone who finishes a full rack of these ribs in one sitting can expect to eat a day's worth of salt, over a day's recommended amount of fat, and about 75% of your daily calories. Take Dr. Young's general advice to heart and order the half rack if you are craving some ribs.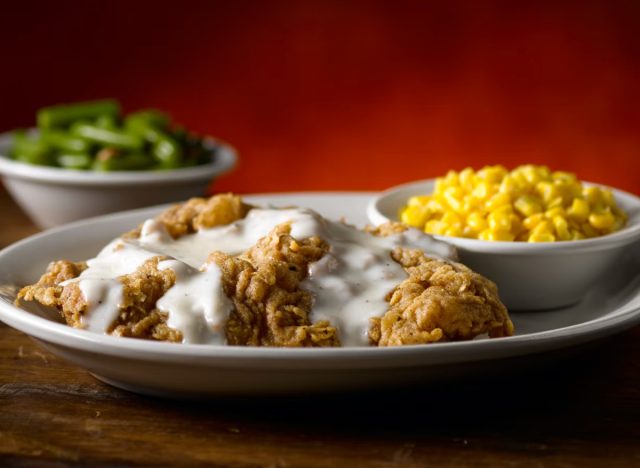 1,170 calories, 75 g fat (22 g saturated fat), 2,220 mg sodium, 72 g carbs, 2 g fiber, 9 g sugar), 52 g protein
Texas Roadhouse's version of Country Fried Sirloin may not contain as many calories as some of the chain's other entrees, but the crispy, fried dish has a ton of carbs.
This fried piece of steak already comes with a day's worth of fat and salt in each serving, but many diners may feel the need to go the extra mile and douse the protein with country gravy. You can always opt to make this country fried steak at home in order to control how much salt and fat actually goes into the meal.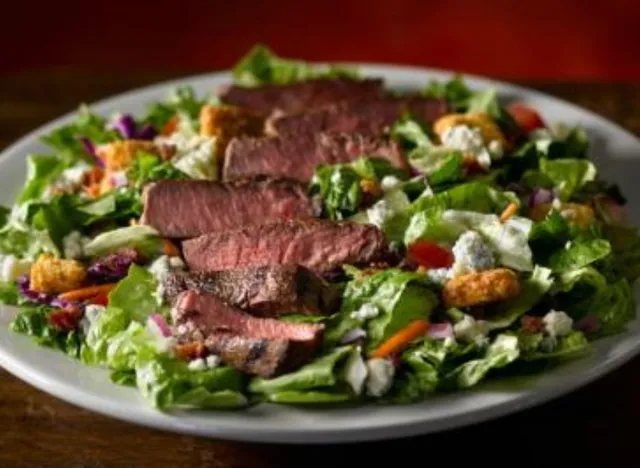 1,340 calories, 103 g fat (25 g saturated fat), 2,870 mg sodium, 42 g carbs, 8 g fiber, 21 g sugar), 71 g protein
Texas Roadhouse doesn't pull any punches when it comes to loading their meals up with steak, includings its salads. Anyone who opts for the Steakhouse Filet Salad in hopes of ordering a healthy meal may not realize that it contains more fat, calories, carbs, and salt than many steaks on the chain's menu.
Instead, opt for the Chicken Critter Salad or the Grilled Salmon Salad for a healthier entree if you want to eat smart at Texas Roadhouse.