Much like steakhouses, burger restaurants stand out with the quality of their meat—or lack thereof. Perhaps even more so than steakhouses, burger chains need to distinguish themselves with top-tier products, due to the fact that they oftentimes don't have the glitz and glamor of a fine-dining steakhouse vibe to fall back on.
And when it comes to product, it's all about the beef. Sure, it's important to have good toppings, condiments, and buns (not to mention the fact that burger chains have really stepped up their game with meat-free patties), but if you don't have quality beef, everything else is for naught.
It's also important for these companies to steer clear of antibiotic-laden meat, an issue that's plagued the beef industry, leading the WHO to call antibiotic resistance one of the biggest threats to global health, food security, and development today.
From fast-food restaurants and drive-thru fixtures to regional mini-chains, there are a select few companies that go above and beyond with their diligent sourcing and handling of the meat all the way from procurement to the moment it hits the bun. These are nine burger chains that put in that extra effort to serve the best quality meat in America.
Now routinely rated as America's favorite better-burger chain, Florida-based BurgerFi has made swift work moving from under-the-radar to national treasure. This year, for the second year in a row, the fast-growing company placed second on USA Today's 10 Best Readers' Choice Awards List, making it the highest-rated burger brand in the nation.
And that's all a testament to its quality meat and ingredients—BurgerFi also earned an A in the annual Chain Reaction Report for its beef quality, which ranks America's chains on metrics relating to antibiotics used in their supply chain. The fact that the 120-unit company uses products like Wagyu beef and antibiotic-free Angus, completely free of hormones, steroids, chemicals, or additives, helps it stand out from the herd. Plus, the meat is humanely raised, grass-fed, and never frozen, all great signs of a restaurant willing to walk the walk, as well as talk the talk.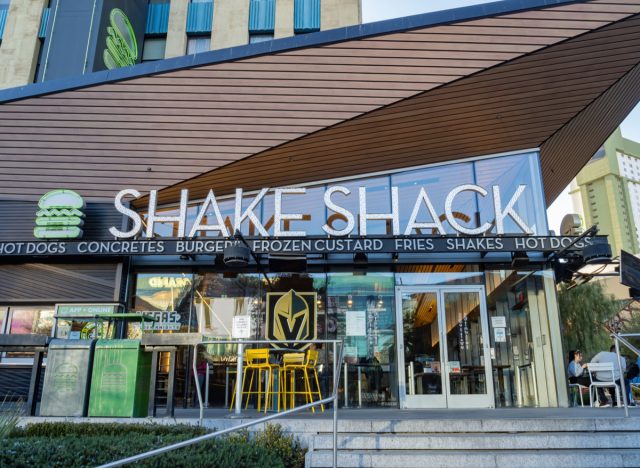 Another burger chain that received high marks (an A, to be exact) from the U.S. Public Interest Research Groups' (PIRG) Chain Reaction score is Shake Shack. For the nationwide company, it's all about transparency, offering detailed reports and philosophies on its website, including a section on its animal welfare policy (spoiler alert: they have zero tolerance for animal abuse) and a whole report on its commitment to environmental responsibility.
It's a commitment to quality that's long been a central tenet for the brand, which started as a modest New York City hot dog cart operating under the ethos "Stand For Something Good." It's a sentiment that applies to each and every facet of the business, from LGBTQIA+ inclusivity to charitable donations and chef partnerships across the country. It also applies to its meat, a 100% Angus beef blend free of hormones and antibiotics, humanely raised and grazed in the U.S.
"Through our domestic food supply chain, we're committed to working with best-in-class, diverse suppliers," touts the company website. "We pride ourselves on sourcing premium ingredients from like-minded ranchers, farmers, and supply partners—using real, premium ingredients like 100% antibiotic- and hormone-free proteins that are always vegetarian fed, humanely raised and source verified, plus raised and harvested in the USA. We continue to increase our investment in regeneratively farmed beef."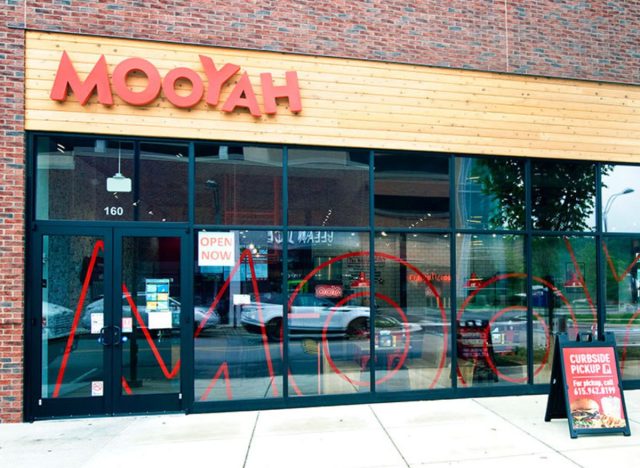 This fast-casual burger chain was born in Plano, Texas in 2007. The chain now has over 80 locations across the U.S. It serves burgers that are never frozen and 100% Certified Angus Beef brand beef. They claim their burgers are higher grade than most steaks. In fact, in one study, Mooyah's customers reported higher satisfaction than Five Guys and Smashburger.
Mooyah's burgers are fully customizable and include options for multiple patties—of beef, turkey, or veggie—Applewood smoked bacon, different cheeses, sauteed and fresh veggies, and even all-beef hotdogs. Bun choices include gluten-free rolls and even lettuce for the low-carbers. It also has great, hand-cut fries and shakes.
The pandemic hit everyone hard, but restaurants that lost valuable foot traffic suffered the most. MooYah lost 40% of its sales, but through aggressively caring about the company, not just the bottom line, the company is now thriving.
After debuting in 2008, and being named one of America's hottest startup fast casuals, Epic Burger has emerged as a community cornerstone with several locations throughout Chicago—beloved not only for its warm ambience and comfort food, but for the extra comforting fact that its ingredients are the cream of the crop.
Billing itself as "locally born and grazed," the quick-service mini-chain was pioneering the use of non-GMO ingredients, Halal-certified preparations, and expansive vegetarian options long before they became widespread. As a fast-casual restaurant that genuinely cares about its customers, its purveyors, and animal welfare, it's all about serving mindful food with a modern approach, while remaining steadfast with its quality meats.
"Our beef is certified Halal, which means the cows are raised, fed, bred, and processed in a way that is clean, efficient, and without any suffering," explains Epic Burger CEO David M. Grossman. "That equates to better tasting and better quality beef. There's no antibiotics, no hormones, and no nitrates. It's the EPIC way and is inline with our tagline—a more mindful burger."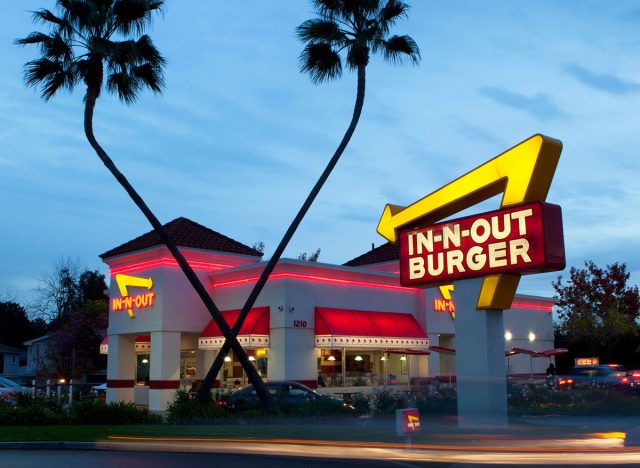 "We make things the old fashioned way." That's the overarching philosophy at this West Coast burger chain, and it's a folksy adage that applies to every aspect of its business. From the Americana vibe to its cute palm tree merch and "cookout trucks," there's a lot of old-fashioned charm to be found at this fan favorite.
Another facet of the old-fashioned way is how the company, since its origins in 1948, has upheld high standards regarding the quality of its meat. "Our commitment to quality starts with our hamburgers. And our burgers begin with our patties," explains the company website. "Each patty is made using only fresh, individually inspected, whole chucks from premium cattle selected especially for In-N-Out Burger. Our team of associates removes the bones, grinds the meat and then makes each patty."
It's a hands-on and proactive approach to sourcing, using 100% USDA ground chuck that's free of additives and preservatives, that has long been part of the company DNA. Never frozen (the company proudly states no stores even have microwaves or freezers), the meat comes in from In-N-Out patty-making facilities in California and Dallas, ensuring the chain has total control over the whole process.
It takes a lot of brass to bill your burgers as "real" burgers, but Massachusetts-based B.GOOD can back it up. The Boston-born fast-casual, which now boasts numerous locations throughout the northeast, was founded by two friends who grew up eating wholesome, comforting food in their family kitchens; the kind of food that scratches that craveable itch without leaving you feeling like you need a nap—and a treadmill.
Although there are now dozens of B.GOOD outposts, each and every one still serves a burger-centric menu that adheres to those wholesome, familial roots. "At B.GOOD, everything we do is driven by our food ethos, i.e. what we believe in when it comes to food," explains the company. "And our ethos is pretty simple: food should be good for you and good for the planet. Every single day we make decisions that prioritize the quality and taste of the food we serve while also protecting the environments within which it's grown and raised. It's better for our customers, our partners, our food system, and our planet."
Big on "real" ingredients, that also means their meat never has any antibiotics, hormones, preservatives, colors, or flavorings. Going the extra mile, B.GOOD has its own farm, Hannah Farm, where they employ regenerative agricultural practices for more sustainable farming, and uphold animal welfare through its Certified Humane standards, ensuring all animals lead happy, healthy, and enriched lives.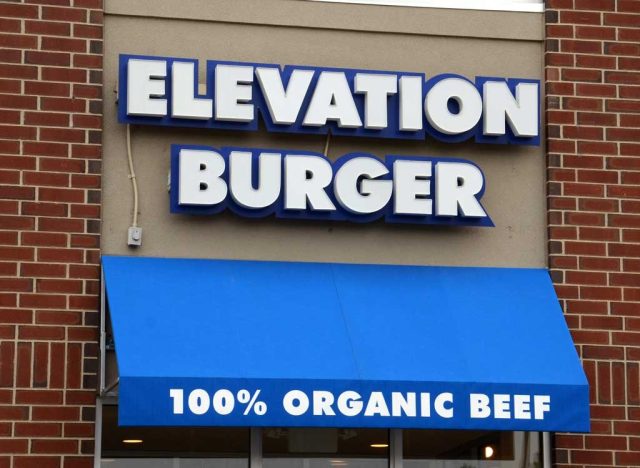 6254a4d1642c605c54bf1cab17d50f1e
Another regional burger chain with high-quality ambitions is Virginia-based Elevation Burger. Describing itself as a premium organic burger chain, the company name is apt, considering the whole company philosophy is about elevating standards for quality ingredients—most notably its 100% grass-fed, environmentally sustainable beef.
"As the first organic burger chain, we are committed to providing authentic and sustainably prepared food that's better for you and the environment," says Mark Gustus, Director of Operations at Elevation Burger. "Our Elevation Burgers are made with 100% USDA-certified organic beef. Our beef is also sourced from grass-fed cattle, which has less calories and saturated fat than conventional beef. All of our meat served is organic, free-range, and humanely processed."
All beef is also entirely antibiotic-free and sourced from farms with strict standards for animal welfare and well-being. Now with more than 40 locations, it's a strategy that's proven successful.  "Ingredients matter at Elevation Burger, and we will continue to source only the highest quality ingredients for an elevated dining experience," Gustus adds.
The slogan for Fuddruckers, "World's Greatest Hamburgers," is a lofty claim, especially for a chain that was near extinction until recently, but clearly, there's something to it. Even the most basic patties at this burger-centric restaurant are "flavorful, fatty, and well-seasoned," according to Serious Eats, but it's not just lip service for the brand.
The company recently leveled-up by adding Prime-grade beef to its menus, and remains diligent about the quality of its product. Fuddruckers uses fresh, never-frozen 100% USDA premium-cut beef with zero fillers or additives, available in 1/3-, 1/2-, or 2/3-lb. patties that are grilled to order. According to its website, the company takes its beef very seriously, sourcing from U.S. ranches that adhere to Islamic compliance, meaning cows are raised, bred, and processed in ways that are healthy and free of pain for the animals.
Any burger chain that donates $3.5 million to agricultural education is clearly one that's passionate about its product. Culver's is so serious about farm-fresh sourcing that the company established the Thank You Farmers Project in 2013 to support agricultural education and celebrate the farmers who work to ensure their animals are healthy, happy, and of the utmost quality.
"We're passionate about sharing our appreciation for farmers with guests so they feel connected, investing in agricultural education to ensure the next generation of agricultural leaders is engaged and capable, and supporting climate-smart agricultural efforts that produce nutritious food for a sustainably vibrant food supply," the company says on its website.
This care and commitment results in a better Butter Burger for the Wisconsin-based chain, which uses a special blend of sirloin, chuck, and plate to achieve a never-frozen patty that's well-marbled and rich, without using any antibiotics or fillers. It's no wonder it was rated as one of the top regional fast-food chains in 2022.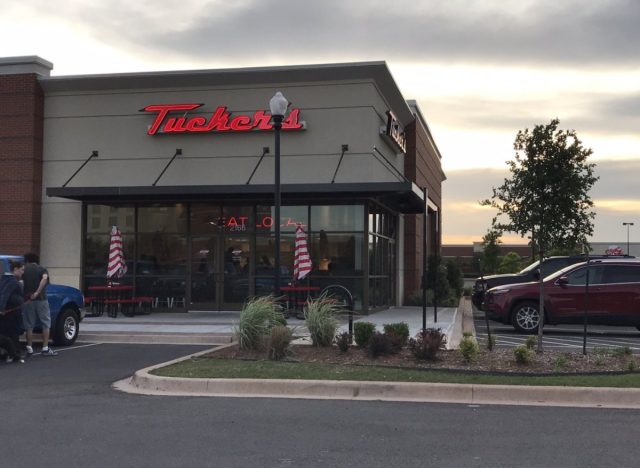 As one of the regional mini-chains, with only four locations in the Oklahoma City area, Tucker's Onion Burgers still leaves a big impression. A fast-casual homage to a local Oklahoma favorite, the onion burger (wherein thin slivers of onion are pressed into the patties and griddled until nice and crispy), Tucker's has the same Americana charm as an In-N-Out, and the same commitment to quality sourcing as any farm-loving chain.
The company exclusively sources its beef from Creekstone Farms in Kansas, which Tucker's believes is the best ground beef on the market. But it's about more than just finding quality products, it's about finding quality people whose views and standards align with yours. "We not only look for the best product, we look for a company with a stellar reputation and a long history of providing hospitality to their customers over several years," explains Keith Paul, CEO of Tucker's parent company, A Good Egg Dining Group.
A previous version of this article was originally published in August 2022. It has been updated with new information.